Best Sniper Legacy: Dino Hunt & Shooter 3D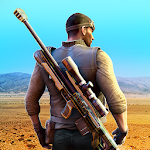 Download
Version

1.07.5

Category Action
Requirements

Android 4.1

language

EN, FR, DE, ES...

Developer

T-Bull
Interesting in its subject matter first-person shooter, which takes place in the near dark future.

The events take place after the Apocalypse, which broke out as a result of a mistake made during the experiment. The government tried to give man new opportunities by combining his genes with the DNA of a prehistoric dinosaur. The test ended in failure, resulting in the light escaped bloodthirsty monsters that destroyed almost all of humanity. But the bad news didn't end there. Soon people began to turn into the living dead, attacking the survivors and depriving members of the human race last chance for a bright future. The user will act as a professional sniper who is ready to go absolutely anything to survive. Best Sniper Legacy: Dino Hunt & Shooter 3D gives him the opportunity to improve his own rifle, as well as in designated areas to acquire new weapons, damage and accuracy rates are much higher than the previous one.


Features:
The availability of system upgrades combat Arsenal and other characteristics;

Excellent three-dimensional graphics with excellent object detail;

Original idea, which came true thanks to the efforts of developers.

The application will have to come together in a fierce battle with huge monsters and violent zombies. The chances of winning are small, but there is simply no other choice.

Download Best Sniper Legacy: Dino Hunt & Shooter 3D free for android