Rodeo Stampede: Sky Zoo Safari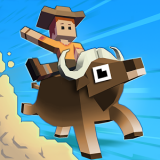 Download
Version

3.7.0

Category Arcade
Requirements

Android 4.4

language

EN, FR, DE, ES...

Developer

Yodo1 Games
Rodeo Stampede: Sky Zoo Safari - a fairly simple runner for Android devices, developed by the Studio Yodo1 Games, from the creators of the hit game "Crossy Road", which was downloaded by more than forty million users. Will her newfound application rise to the top of celebrity? The design is very voxel, similar to the same "Crossy Road", the gameplay is interesting and funny.

Our initial actions-the choice of a heroic character, a girl or a guy, different skin color, outfits, but everyone in any case will be a hat, because they are cowboys. First you have to go on foot, however, gamers need to turn their skill and accuracy to be able to throw on a horse, a Lariat, and then move forward and wait for the emergence of a new animal, for example Buffalo, also itself with approximations to jump on him, donning his horned monster Lariat that will retain the bright yellow circle.

Riding an animal is selected, it should pop love level with red heart when it's full, it means you have successfully traveled animal. It is worth Recalling that occasionally the animal can get very angry, you must immediately jump to the other. The more you manage to ride the animals, the much harder it will be to find a new one.

Try to collect them all, if you have enough time and patience. In addition, with the exception of the catching process, reminiscent of a typical runner, gamers will have to do with the creation of their own personal Zoological Park, where each user will be available to view your rare collection of animals, and expanding the zoo, you can get money for its future prosperity.
Download Rodeo Stampede: Sky Zoo Safari free for android