The Greedy Cave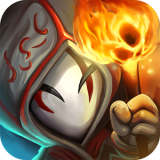 Download
Version

4.0.28

Category Adventure
Requirements

Android 2.3

language

EN, FR, DE, ES...

Developer

Avalon-Games
The Greedy Cave - role-playing game, containing autogenerated stages and cute style similar to that in the game Don`t Starve. From the very beginning, the appearance of the hero is configured in the internal editor. There are not many options, but the standard attributes: skin color and hairstyle can be chosen without problems.

The storyline is missing, but before the passage is shown a small text, suggestive of some thoughts in terms of history. An open hint of a very hardcore gameplay is that the original hero met becomes a seller. It should be said that each acquired thing or weapon changes the appearance of the protagonist, which is very pleasing.

When the gamer descends into the underground burial galleries, he is left alone. Underground tunnels are not single-line, for this reason, there is always the possibility of choosing the direction of movement. In the narrow corridors of the dungeon, you can stumble upon an enemy with whom you have to fight. Battles are carried out in automatic mode, but not in all cases it is possible to escape from the enemy.

Often in this gloomy underground area come across boxes with weapons, equipment, gold coins and other useful items. With opponents can also pour valuables. Increasing the levels of experience will greatly affect the characteristics of the heroic character, for example, the number of damage inflicted, as well as the scale of health. In the process of passing the stages your fighter begins to descend deeper into the mysterious catacombs, facing more powerful opponents.
Download The Greedy Cave free for android