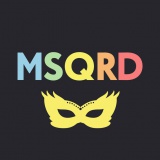 3.3
MSQRD
Version

1.8.3

Category

Photography

Requirements

Android 4.3
MSQRD - very funny photo editor that provides the ability to try on virtual masks with popular stars. The application software begins to scan the face in real time and is quite vital to apply a mask to it, and the mask will effectively repeat all your expressive movements of the facial muscles.

At this time MSQRD is in test mode and in the editor there are not too many unique masks, but the impression is that soon the mask will appear for every taste. To date, open access has more than ten masks of animals - predatory striped tiger, monkey, decorative dog; of influential people - President Barack Obama, billionaire playboy and a capable inventor Tony stark, the famous American politician and tycoon Donald trump, Austrian singer Conchita Wurst and Kazakhstani reporter Borat Sagdiyev; several masks turns you into a horrific demonic creature of hell the most simple and harmless it would seem you painted under tigrenok.

You can take photos and shoot video, but for high-quality shooting, as well as better effects, it is recommended to get rid of glasses and turn on bright lighting, otherwise there will likely be terrible distortion and other errors. The resulting selfies and captured videos can be spread on social networks such as Instagram and Facebook.

The application program grows in active mode and with each new update it appears more interesting and scary mask. There is a transcript of this photographic editor, MSQRD - translated as "Masquerade".