Moy 5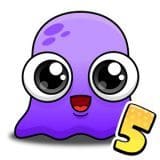 Download
Version

2.052

Category Casual
Requirements

Android 4.0

language

EN, FR, DE, ES...

Developer

Frojo Apps
Moy 5 - a fun toy created for fans of virtual Pets, who in any case want to record this analogue Tamagotchi on your Android device. Users need to go with his virtual little animal all its difficult way of life, initially taking care of not hatched egg, then have to take care of the pet, feed it, clean, walk with him, and fulfill all his whims.

However, time will pass and your little animal will grow up, becoming an adult, almost an independent animal. In the next sequel added a lot of exciting mini-games, thanks to their number to date has reached forty-six.

Gamers need to constantly monitor the actions of your pet, fulfill all his desires and requests and give him only what he asks. It is possible to change the clothes of his character, putting on a variety of colorful outfits and to implement this gamers are given a considerable range of different shirts, t-shirts, skirts, dresses, pants, shorts and other outfits.

With the help of this collection, players will be able to create a special character that will be very different from other characters. The application does not require any complex actions from the player, all that is necessary is regular observation of the life-loving little animal.

5 Moy - virtual pet game is considered as a fascinating game, in which players care for a virtual pet. It must be fed in the allotted time, take a bath with him and play. To fulfill the last point, the authors of the project have integrated into the application a lot of fun mini-games. Help the fluffy hero become much happier. Users of the Android operating system will be surprised by a beautiful three-dimensional graphics component and optimized gameplay, thanks to which gamers can not be afraid of failures and constant departures. Enjoy an excellent video game and get a lot of new sensations.
Download Moy 5 free for android