Durak Online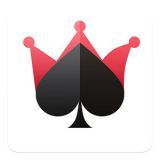 Download
Version

1.9.14

Category Casino
Requirements

Android 4.0

language

EN, FR, DE, ES...

Developer

R-Soft LLC
Durak Online - There are people all over the world who love Board card games. Especially for these players, the company R-Soft LLC has developed a great game called Fool Online. Naturally, not many users are chasing beautiful graphic effects in these games on portable Android devices, but this application is executed at the highest level.

In this game, card battles are carried out in real time, competing with gamers from around the world. The main goal of users - getting rid of the cards in their hands, trying to finish the game is not the last. The defeated player will be the one who will remain with part of the deck of cards the last.

In addition, the user in any case lose, if the game will leave the battle, want to give up or miss the course at the end of a certain time. The toy includes card battles from several to six gamers in two types: one of which is transferable, the second is a tackle. Also one of several parameters is selected: the first users or all will throw.

The application allows you to throw more than one card at a time, as well as to make the cancellation of an accidental throw of the card. The game has a special difference from many other card likenesses, because it has a great system of achievements that can be saved and attached to your Google account.
Download Durak Online free for android