Legendary Heroes MOBA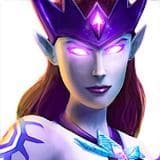 Download
Version

3.4.11

Category Strategy
Requirements

Android 3.0

language

EN, FR, DE, ES...

Developer

Monstro
Legendary Heroes MOBA - contains elements of role-playing, action and strategy. The duties of the player is not only the destruction of the enemy, you also need to take an active part in the storyline. Online game stimulates analytical abilities and forces you to think through the steps several moves ahead to eliminate the enemy base with minimal loss of own combat units.

The battle takes place between two teams on a small plot of land. The player has 3-5 protected objects, one of them is the base, the destruction of which means a complete victory over the opponent. To get to the main goal you need to eliminate the towers guarding it. Download Legendary heroes MOBA for Android and take part in legendary battles.

You have a choice of 3 characters. Switching takes place directly during the battle. To maximize the potential you must first study the features of the hero. Competent distribution of participants of the battle is the key to a successful confrontation.

With the control handle even the ordinary man in the street. To bring the army into action you need to point a finger at her landmark. To attack, move the cursor to the enemy, the rest of the brave guys will do themselves. In total, the game has 32 levels, little different from each other.
Download Legendary Heroes MOBA free for android