Crab War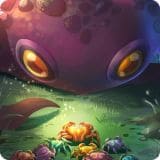 Download
Version

3.61.0

Category Arcade
Requirements

Android 4.1

language

EN, FR, DE, ES...

Developer

Appxplore Sdn Bhd
Crab War - takes the user into a fascinating underwater world in which a lot of interesting adventures and exciting events are waiting. By clicking on the screen, it is necessary to restore justice, destroy enemies and bring peace and quiet to the Kingdom of marine life.

In the story, crabs quietly existed on the earth's surface and enjoyed a quiet existence. However, after the advent of evil reptiles, our heroes had to retire deep into the bowels of the earth. For a long time, the proud crab people were exposed to special radiation. As a result, they mutated and became more powerful creatures. Now they have gathered the necessary strength to start fighting with the insidious invaders.

Game play is a simple clicker with standard features. At the top of the screen there is a hefty reptile and from each click on the screen there is a small crab that immediately attack the harmful reptile. Every tenth stage is a battle with a crocodile, which is the boss devouring our units.

In the course of also available a variety of various abilities to battle quickly destroying the leaders. Magnificent sound and graphic accompaniment, juicy colors immerse the user in an uncompromising struggle for a place under the sun and under water and on land.
Download Crab War free for android