Case Opener Ultimate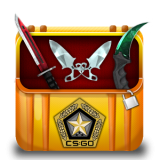 Download
Version

2.5.49

Category Simulation
Requirements

Android 4.0.3

language

EN, FR, DE, ES...

Developer

Light Side Apps
Case Opener Ultimate - a good simulation game that will impress all fans of the famous online action "Counterstroke", which will be used special cases, inside which unique weapons are stored. In other words, gamers will be able to try their luck, dealing with the opening of various safes, through virtual money.

Players will have a chance to get the weapons that did not appear in the original game Counter-Strike. Most importantly - unparalleled realism, namely all of the action is equivalent to opening cases in CS: GO. There are several types of cases, characterized by the weapons that may fall to gamers, moreover, for the rarest instances, you can earn a considerable amount of money or keep the gun in your own collection.

At the initial launch, there are three main tabs: Souvenirs, casual and special cases. Several initial cases will be opened at the game start, and access to special with powerful weapons will be opened when the required level is reached, which increases automatically after the disclosure of each case.

If gamblers got the rarest weapons, their rank will instantly increase and give an excellent opportunity to earn a worthwhile sum of money. There is no connection between this game, for this reason, players do not charge real money, however, and obtained with the successful opening of the case firearms will not be used in games.

Case Opener Ultimate – a unique simulator that will certainly appreciate all the many fans of the legendary shooter Counter Strike. In which there is a chance to take possession of deadly weapons using special cases.
One of the key advantages is the conditions as close to reality as possible. The game has several variants of cases, where each can fall extremely rare weapons for which you can get more money reward or leave unusual military equipment in its kit.
After downloading the application POPs up the start screen, which flaunts three main interface elements: random, gifts and special. If the first two are available initially, the last one can be opened when the required rank is reached. Unique Arsenal items instantly increase the rating and raise the level.
However, the connection with the real game is missing and the rewards can not be used in any other place, but the money you do not require it. Graphic content is not different from the original delights, everything is done in the usual execution. The format is designed exclusively for fans of CS: GO, and for the rest of this entertainment will not cause much interest.
Download Case Opener Ultimate free for android