Tower Conquest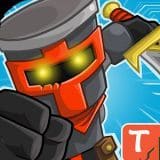 Download
Version

23.0.18g

Category Strategy
Requirements

Android 4.1

language

EN, FR, DE, ES...

Developer

Titan Mobile LLC
Tower Conquest - a great Android game in the style of "Tower defense", performed in an unusual format, pulling into your tower game world actually from the beginning of the game.

In the introductory video will be told about a village guy who noticed a mysterious portal, which unwittingly opened it. From another dimension, an evil force made its way into his world and a bloody crushing battle broke out. Gamers have a large castle located on the left side of the screen, and the enemy defenses are located on the left.

The main resource is magical energy, which has the ability to accumulate continuously. With the help of mana, you can hire ordinary villagers who have a pitchfork instead of a normal weapon. Having dealt with the undead, a large crowd of peasants struggles to run to the enemy tower building and destroys it. Players are paid gold coins and given a new kind of soldier, including the Black knight, for defeating the terrifying zombified creatures. Although he is slow, but quite a strong opponent.

After several intense battles, gamers are pumped level and will improve the performance of their brave soldiers and basic buildings. In addition, after some time, free access to a variety of magic spells, for example, freezing, fireball and other chips. Occasionally enemy troops begin to pour in miscellaneous bonuses: money, tornado, enabling them to carry into my funnel monsters ago.
Download Tower Conquest free for android