Robbery Bob 2: Double Trouble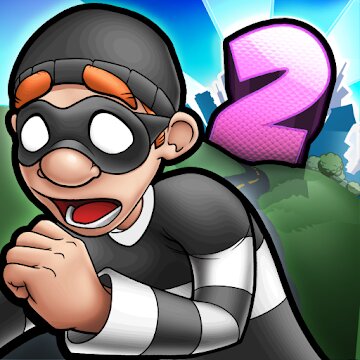 Download
Version

1.9.9

Category Arcade
Requirements

Android 4.1

language

EN, FR, DE, ES...

Developer

Level Eight AB
Robbery Bob 2 - a remarkable sequel to the arcade game, povedali the story of the unfortunate misadventures of Bob the thief. Compared with the first part of the game gameplay has not changed: gamers have to sneak into someone else's house and steal out all the valuables. But inside the residential building players expect a variety of dangerous traps and his not sleeping owners.

You have to learn extraordinary stealth, sleight of hand and lightning speed to steal every last penny. The key worked without much noise to sneak up on that is done it automatically, to successfully overcome all the dangerous rooms close leaning against a concrete or wooden wall and lots of other clever stuff, which even envied by secret government agents.

In many areas, the thief will need to run nimbly, but this is a very loud action that can awaken the owners. Residents living in most of the rich houses have a considerable radius of view, the most important thing is not to try to let yourself be noticed and the robbery will end in a furore.

In addition to all this Bob contains a great number of tricky of the chips can sidetrack the vigilant old woman throwing her a tasty cake with potent prognoznym the means by which she'll get a stomach ache and she instantly run to the bathroom. In the meantime, we'll be running our illegal cases. The game includes an unimaginable number of bright cartoon stages with a significant number of small things.
Download Robbery Bob 2: Double Trouble free for android