Angry Gran Run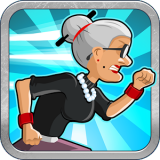 Download
Version

2.32.0

Category Arcade
Requirements

Android 3.0

language

EN, FR, DE, ES...

Developer

Ace Viral
Angry Gran Run - absolutely unique idea in the style of runner, in which players will take on the role of a crazy old woman who managed to escape from a psychiatric hospital. The creation of this application was busy Studio Ace Viral, which has a small number of games about such crazy grandmothers. The similarity with other projects of a similar type is immediately visible to the naked eye, because the changes affected only the graphic design. Management is carried out in the usual mode for runners.

An abnormal old woman escapes from a mental hospital, the players only have to send the heroine in the right direction at the right time. To make a tackle or jump-use the tangent movements up and down, and to select the band you need to press right-left. At the time of lightning run do not forget to collect along the way a variety of useful things and gold coins, beware of all sorts of glitches.

Recently the game begins to cause a bloodcurdling laugh because Granny hallucinations emergency. The road users will face terrifying aliens, alien ships, crazed animals of unknown form, as well as assorted monstrous creatures.

Despite the non-existent reality, gamers will have to pass all these terrible obstacles, because for the old woman they are considered impenetrable. Sometimes the elderly heroine will come to her senses and the fictional world temporarily disappears, and its place is taken by the real one, which is also full of all sorts of obstacles.
Download Angry Gran Run free for android