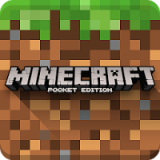 4.4
Minecraft
Version

1.15.0.51

Category

Simulation

Requirements

Android 4.2
Minecraft - really interesting toy in the genre of "sandbox", liked by many gamers, where events are developing in a fully open world, which is created from a variety of blocks. Gamers control the main character and have to survive in this unusual world, doing crafting. Most users will probably be surprised that the video game developed only seven days, but it is quite a long time was on the game testing and after passing numerous tests in November 2011 it was officially recommended to the public, suitable for virtually all the familiar platforms.

Minecraft universe, where the player is considered endless and boundless, consisting of various blocks: stones, trees, organic mineral formations of the earth's crust or various structures. Actually in which lurk all the game features. Dealing with the connection of diverse blocks, gamers can take up the creation of new blocks: weapons, household items, as well as produce different types of equipment.

The main goal of Android games - full development and of course survival. If players have the creativity, if they can realize their own fantasies in the image of recreating their own worlds and love to spend a lot of time for a truly beautiful entertaining games, they simply have to play Minecraft.

To date, the video game contains several modes: Survival, Creative, adventure and Hardcore mode. More like for users - a mode of survival, where all of them will have to find all sorts of resources on the horizons of their equipped world, of which as it was written earlier, it is possible to master and produce the most complex elements and blocks.