Clash of Kings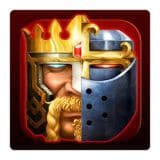 Download
Version

9.10.0

Category Strategy
Requirements

Android 2.3.3

language

EN, FR, DE, ES...

Developer

Elex Wireless
Clash of Kings – a great toy in which you can take yourself different components of the project. The gameplay is realistic, helping to reveal all the facets and subtleties within the game. The sound and design are made at a high level. So the project deserves increased attention from the players.

The player will fight for the throne of the Kingdom, because no one wants to trust you and be on your side. And you do not have a fortress, because it needs to be built in the beginning. Plus try to train your own army in order to fight back the opposing side.

Open the whole world for research, where you can find different chips. Upgrade is quite thoughtful, as the game balance in all aspects-observed. Especially need to try to defeat the enemy with the help of cool and cunning, because that practically decides the outcome of resistance.

The project is closely linked to all social networks and applications, as allies will help you build a great Kingdom. All animations clearly fit into the plot denouement of events, plus the game is quite a lot of quests and events. There are alliances with allies, they are especially interesting to those people who spend a lot of time in the game. The picturesque environment and striking landscapes will force the player to enjoy a bright image inside the project.

Clash of Kings - immersive gaming application created for owners of mobile devices and tablets on the Android platform. Modern graphics, carefully crafted to the smallest detail textures immediately create a pleasant impression about this project. All the numerous objects and a variety of gameplay elements are filled with extraordinary realism, which, combined with first-class sound effects puts the game at the top of the genre.
Gamer is given the role of the deposed Emperor, who gathers strength to regain his rightful birth throne. You have to build a powerful fortress walls, prepare and arm the army and fight with opponents, establishing their orders on your lands. The game takes place in PvP mode, so you can compete in strategy and tricks with other players from different countries. It is possible to explore the game space to find artifacts that increase various abilities.
Well-designed upgrade system, makes the game balanced, so victory will require the ability to quickly respond to the circumstances. Players have the opportunity to communicate with each other, because in order to defeat the enemies and build a mighty Empire, you need victorious alliances and loyal allies.

The obvious advantages include the following points:
excellent graphics made in a modern manner;
carefully detailed gameplay and balance of power;
lots of tasks and impressive rewards if you successfully complete them;
cunning traps and a lot of varieties of combat units.
Quality game allows you to forget about free time for a long time. Taking every minute, it will charge your life with exciting events that will occur on the screen.
Download Clash of Kings free for android