Car Dealer Simulator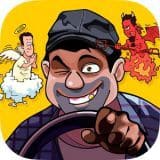 Download
Version

5.9

Category Simulation
Requirements

Android 2.3.3

language

EN, FR, DE, ES...

Developer

Appscraft
Car Dealer Simulator - the player is given a chance to feel as a seller of used vehicles. Perhaps anyone need to deal with car dealers. It is easy to buy a cheap car, make cosmetic repairs, replace defective parts and resell twice as much.

At the beginning of the game, you have to visit the skin of a novice businessman who wants to get rich in all ways. You have a small start-up capital, a lot of enthusiasm and a garage with the necessary equipment. Buying a car is completely filled with realism. First, you get a phone call, then a meeting with a potential seller, inspection, bidding and completion of the transaction. After that, you become the proud owner of a pile of scrap metal, the cost of repair which overlaps its price or you're lucky and you get off with a little blood.

Naturally, you can not sell a faulty car, any car can be put up for sale, only giving it a great appearance and put it on the wheels. However, during the sale, too, there are unforeseen situations. During the game you will gradually master the skills of repair, expand the material and technical base raise the level of skill.

Very nice visual component and music of this application. Done simply, but in an unusual manner. Looney tunes has a calming effect, a character's appearance is changing with upgrading of the skills of the model car eventually stops, everything is more expensive and more beautiful.
Download Car Dealer Simulator free for android