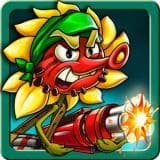 3.5
Zombie Harvest
Version

1.1.10

Category

Action

Requirements

Android 2.3

Developer

Creative Mobile Publishing
Zombie Harvest – takes you to the place of a large-scale battle with the living dead. Peaceful plants were terribly worried about the appearance of bloodthirsty monsters. Evil creatures intend to completely destroy the beautiful garden with vegetable crops in the beds. Numerous waves they fall on the funny characters to achieve their goal. To prevent the loss of harvest, will have to try to stop the rebels scum and throw the crowd the brainless carrion different things.

You will come to the aid of faithful assistants from vegetables, each of them has unique abilities and is able to stop the endless waves of enemies. Tomato aptly throwing exploding tomatoes, sunflower showers the enemy with a hail of seeds. But the enemies have become much stronger and more insidious, now in their ranks dead Pets and aircraft.

A cursory comparison of this battle have met the most demanding users in the famous series of Plants vs. Zombie and the authors themselves do not deny the fact of the source of their inspiration, but with a more detailed examination of the cardinal differences are noticeable. Zombie theme is very popular in computer games, the creation of pitch darkness, occupy the leading lines and each campaign at least once, but sinned cheerful dead. And this project was able to collect all the best features and interesting finds of their brethren.

However, it is not enough to plant combat vegetables, it is necessary to control the actions of each that would effectively confront the approaching enemies. Having beaten off all attacks you will receive mission will be considered passed, and you will be rewarded with bonus points which can be spent for improvement of vegetable crops.